Course details
New Year's party! Luxury plan using ingredients in late January 7000 yen with all you can drink ◆ 200 yen further with TEL reservation!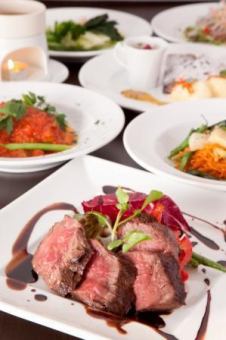 By using a coupon7000 yen
All-you-can-drink available

Friedlink A (5 items) or Friedlink B (10 items)
Available days for reservation

Monday - Sunday - Public holidays - Holidays
It is a course one by one, one by one.All-you-can-drink all-you-can-eat with 120 minutes (excluding December 23-25 December) This course is all you can drink sparkling wine.
Course menu
■ stuzzuchino <Your mouth>
· Chinese cabbage Panna cotta Crossini
■ antipasto <appetizer>
· Today's fresh fish carpaccio salad tailoring
■ primo <pasta>
· Rich pastry of omal shrimp Amequenne sauce raw pasta
■ Pesce <fish dish>
· Poire of fresh fish
■ Carne <Meat dish>
· Hungarian "Mangalica pork" Charcoal grill
■ Dolce <dessert>
· Adult Tiramisu
· Coffee or tea
The menu may change depending on the purchase situation.Please tell the ingredients weak weak.
--- You can use 6 large coupons for private placement ---
· Free drink for toast for the number of people
· Free of charge for rental use
· Audio equipment free lease
·projector
· Bingo machine / Bingo seat free rental
· Advance meeting
All-you-can-drink menu
· Fried Link A
· Sapporo raw pouring
· White wine / Red wine
· Oolong tea / Orange juice
· Fried Link B
· Sapporo black label (bottle) 500 ml
· White wine / red wine / sparkling wine
· Homemade sangria / several cocktails
· Oolong tea / Orange juice / Ginger ale
· Non Alcohol Cocktail Sweet Eve, Pair Blossom, Wild Berry Berry, Citrus Oolong
Coupons that can be used with this course
2018/12/28 update